Gain Instant Insight into Your Operations
Present meaningful data, charts, and visuals to the right people at the right time for fast decision making.
Data Visualization Tools
It can be difficult to quickly analyze data and make decisions when you're mesmerized by reports with endless rows and columns. Data visualization software puts an end to those boring layouts and makes it easier to understand your data with interactive dashboards and reports. With pre-built templates, formatting flexibility, and creative graphics, your users can create and share compelling, consumable data visualizations to quickly interpret trends and deliver tangible outcomes.
Make Sense of Your Financial Data

User-Friendly Interface
Ease adoption with drag-and-drop features and a simplified user experience.

ERP Integration
Bring all of your data sources together to analyze, explore, and report.

Customizable Dashboards
Self-service capabilities allow users to create and tailor BI dashboards to their roles.

Quick to Implement
Start creating visual dashboards and analyzing data within minutes.

Explore All Your Data
Data exploration allows users to analyze larger data sets quickly.

Easy Sharing
Encourage collaboration throughout your organization.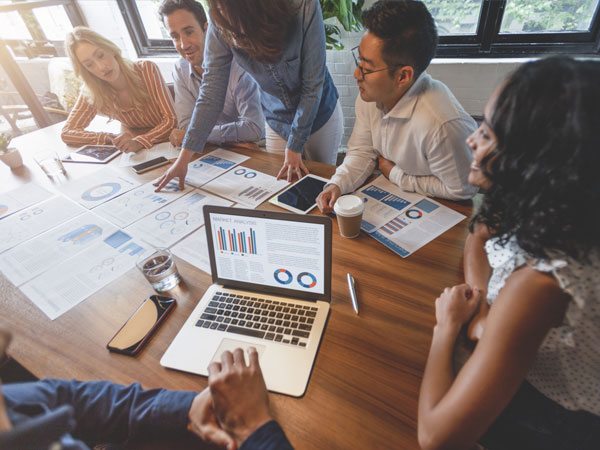 Identify Trends and Spot Anomalies on the Fly
As one of the most widely used data visualization tools in the world, Microsoft Power BI is an affordable, easy-to-use tool for creating visuals and analyzing data. Power BI is tightly integrated with Excel and can seamlessly connect to multiple ERP solutions and other business software.
Take Action with Confidence
Accurate data and analytics should be accessible to everyone. At Clients First, we focus on a customer-centered approach that results in the most realistic, controlled, and least complicated path toward the delivery of reporting and business intelligence solutions. We are experts in Microsoft Power BI, Jet Analytics, SAP HANA, and offer data visualization software that is easy to use and implement – so you can start improving efficiencies and uncovering new market opportunities right away.