Print management information systems (MIS) have become a necessary part of the print industry, but not everyone realizes the potential benefits of the Microsoft Azure cloud for their print MIS cloud solution.
Small and medium print businesses, in particular, stand to benefit from cloud technology in ways they may not realize. With more streamlined processes across print operations, from quoting and estimating to planning and production, growing print companies can utilize Microsoft's modern cloud platforms for seamless scaling abilities.
In this video, David Totten, chief technology officer at Microsoft, gives a complete introduction to Microsoft's cloud services and explains how you can leverage the technology of cloud computing to improve your business.
What is Microsoft Cloud?
The Microsoft cloud is a global network of remote servers that operates through a web-based technology infrastructure allowing organizations to easily integrate different parts of their operation with first-in-class Microsoft products.
While many SMBs have worked with Microsoft 365 (formerly Microsoft Office) products like Word and Excel, many have yet to realize just how powerful the Microsoft cloud can be for their business.
As a 17-year veteran of Microsoft, Mr. Totten is well-versed in the opportunities made available by cloud computing. At 18:19 he summarizes the primary components of the Microsoft cloud and how it can positively impact your business.
The combination of these elements offers more than just productivity tools. Integrating cloud computing, data storage, analytics, and even AI can create better business results.
Leverage Cloud Technology to Thrive
How do all these technology benefits come together? A great example comes from an industry we all have experience with—restaurants. The entire industry has been heavily impacted by Covid restrictions. But one restaurant, Canlis, in Seattle, has been able to not only survive but thrive.
They were able to benefit by using cloud technology to put their clients first and re-orient their employees to provide services in new and exciting ways. Understanding that restaurants provide more than just food, they transformed their product offerings in innovative ways and created a new community of followers in multiple markets.
Canlis was able to keep their employees productive and their clients engaged despite the same challenges that crippled their competitors. Furthermore, they've created new markets that will still be available in the future. You can learn about their success at 8:02.
Integrated Data, Secure and Easily Accessible
Even at its most basic level, the suite of integrated Microsoft tools means that your information can be accessed easily and securely by your employees. Client records, order information, sales data, supplier and partner information, payroll, human resources, training, and accounting have typically each had their own database silos.
But by storing this information online in a secure cloud, your employees can access information as needed, with live updates, wherever they are. Facts and figures previously separated by department or function can be made instantly available to designated team members, allowing for a much more efficient internal operation that, in turn, improves other areas.
With the challenges that businesses in all industries have faced due to the Covid pandemic, the ability to work remotely and still access all your important files has been key to successfully navigating the changing business environment. For example, the use of Microsoft Teams has allowed for seamless collaboration between employees, clients, suppliers, and other partners outside the organization—easily, securely, and in real-time.
Information Feedback Loop
The Microsoft cloud network creates an information feedback loop that will benefit your business in several key areas: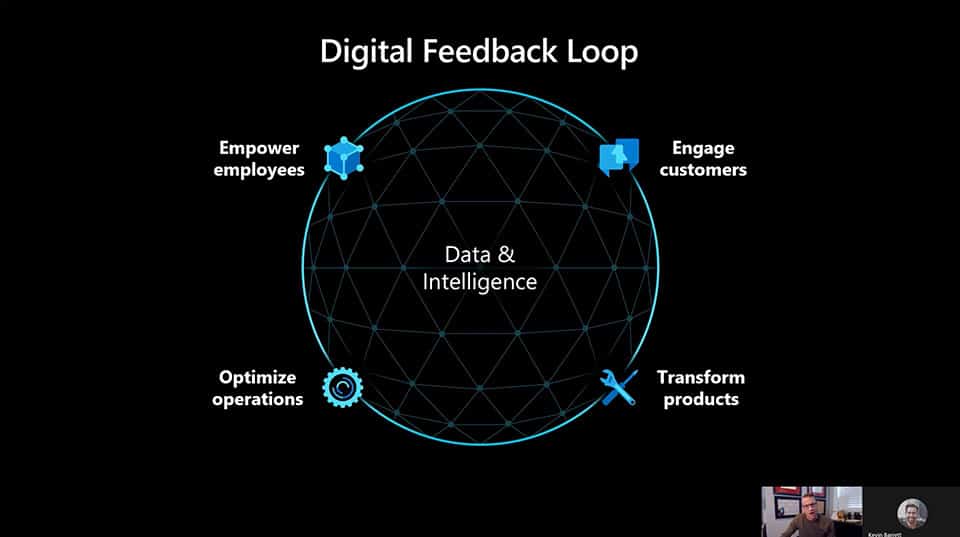 Optimize Operations
It's no longer just about optimizing physical pieces of equipment. You can now leverage the ability to access and analyze information throughout your organization.
As just one example, the need to review and create documents or spreadsheets—like client quotes or proofs—can create a tracking nightmare as it moves through your organization. However, moving the document into the cloud maintains only a single version of the document that each collaborator can easily add, edit, comment, or approve, and all of it is seamlessly automatically tracked. No matter the number of edits, your documentation is always current and easily available—saving enormous amounts of time and headaches.
The streamlined collaboration process can be used throughout your organization, including your business partners and clients.
Solutions like Microsoft Dynamics 365 Business Central, the popular cloud-based ERP for small to medium-sized businesses, provide even more leverage. It creates an environment for successful client relationship management (CRM) and enterprise resource planning (ERP), which provides key business analytics and even artificial intelligence (AI) to provide meaningful insights into your business operation.
Empower Employees
Helping your employees be as productive as possible means providing them with good training and support systems. As the acknowledged standard for business, the tools available through Microsoft and the cloud are exceptional. Outlook and Microsoft Teams add communication and collaboration tools to that base. LinkedIn is the leader for business-focused social media and a tremendous resource for finding employees, potential clients, and creating an effective professional network.
Training and Documentation
You may not know that there are considerable built-in training resources available in the Microsoft Cloud platform as well.
There can be no better investment in technology than training your staff to best use the technology that powers your business. There are three excellent online resources offered by Microsoft, described as "hidden gems" by speaker David Totten at 24:50.
The first is Microsoft.com/Learn, which offers over 3600 independent learning modules. Your staff can find courses by product or by role and learn at their own speed. They can also work on professional development and even obtain certification in over 290 topics.
The second gem in learning opportunities is available with LinkedIn Learning—focused on providing professional training and business skills. Over 30,000 online courses are available for business, technology, creativity skills, technical certification, and even partnered continuing education.
The third is the wealth of technical documentation available. This is a huge boon for SMBs, as it provides well-written guidelines on numerous technology issues, such as how to set up security for people working from home.
Providing your employees with these many educational opportunities can transform your company.
Better Client Engagement
Businesses use several different avenues to attract and engage with clients—in person, via website, mobile apps, telephone, and traditional mail. Each of those connection points creates data that requires handling, but traditional methods generally do a poor job of capturing that information in the most useful way. However, from the client's point of view, they are only dealing with one company, regardless of how many people they interact with.
Creating an integrated system within the Microsoft cloud allows your business to exceed expectations of seamless communication throughout the sales and service process.
As we've seen, adjusting to Covid protocols has promoted the use of remote and hybrid work environments, necessitating centralized information that is easily accessible and secure. The Microsoft cloud provides the platform you need for both employees and clients.
David Totten further explores this at 27:40, using Walgreens as his example to show how they leveraged the cloud to quickly meet client needs and expectations at 28:47. What's noteworthy is that Walgreens could respond quickly and effectively to the changes brought about by the pandemic and attracted a considerable amount of new customers, thereby strengthening their leadership position in the market.
Transformation of Products
Walgreens also demonstrated how they were able to adjust quickly and add new products and services without skipping a beat. Having their business operations in the cloud allowed them to quickly pull together all of their functional areas and work collaboratively to identify product changes required in response to consumer demand and how they needed to adapt to meet potential opportunities.
Working within a cloud infrastructure can improve the development of physical products too. The process is faster, much easier, less expensive, and ultimately more effective, as a lot of product development can occur virtually rather than with physical interaction. Totten describes a development process at 31:21, pointing out how the use of the Microsoft Azure cloud computing platform can create a competitive advantage.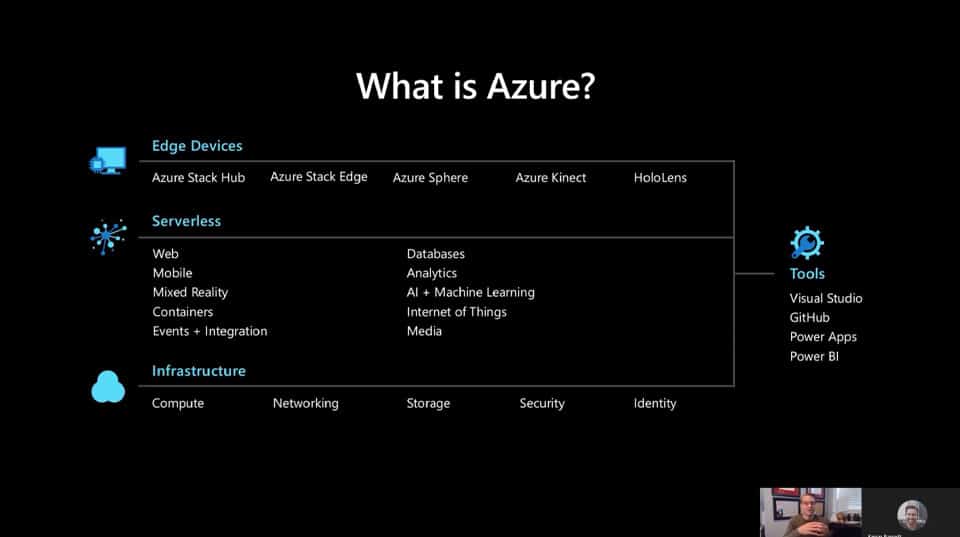 Security, Privacy, and Compliance
There are two aspects of security that concern every organization: keeping the data protected and controlling access.
When information is online, cybersecurity— meaning keeping your information safe from hackers— is top of mind. The work required to maintain secure networks is best done by dedicated professionals within large technology companies that can develop the necessary expertise and maintain the staffing required to stay on top of threats. Small and medium businesses can leverage the expertise of Microsoft in this area.
The other security issue that can be easily overlooked is the designation and control of access to your data. Controlled data access is baked into the structure of the Microsoft Cloud.
Privacy can also be an issue when using data in the technology platform itself. In this, David Totten is quite reassuring.
"Your data is your data. It's not ours. … We provide management, governance, and compliance counsel on top of your data structure and your infrastructure.
We don't take your data and sell it… We don't take your data and position it with other data to make sure ad spend can increase.
We take your data and we store it, and we process it, and we make sure it's secure, and then nobody can touch it—but you—and then you do with it what you want."
You can learn more about cloud security in this post: Building Trust With the Cloud: Know Your Dynamics 365 Business Central Security Features with Microsoft Azure.
Making the Microsoft and Print MIS Cloud Solutions Work for You
Third-party Microsoft Partners that specialize in specific industries, like print, are your best choice to help you leverage the full capabilities of Microsoft and the cloud.
Clients First Business Solutions offers everything your print business needs to plan, install, manage, optimize, and maintain the business applications you rely on.
The recommended Microsoft Cloud solution is PrintVis—an enterprise resource planning (ERP) and print management information system (MIS), built for total print shop management.
This affordable print MIS cloud and ERP solution will allow you to efficiently manage orders, accurately estimate and quote jobs, optimize resources, control costs, empower employees, and deliver every job on time with centralized business management software made for the print industry. PrintVis is built to meet the needs of all types of print shops and delivers all the scalability benefits of Microsoft's cloud platform.
Book a PrintVis Demo
To see how PrintVis can connect all the moving pieces of print production in your company, click on the link below to be connected with a Print MIS and ERP professional from Clients First Business Solutions.
You can expect a response within 48 hours.