Upgrade from SAP SQL to SAP HANA for Free! You No Longer Have Time for Slow Reporting
Leverage the exclusive analytics, embedded real-time apps, intuitive user experience, and platform extendibility in SAP HANA.
CONNECT WITH OUR SAP B1 HANA SPECIALIST
What to Expect:
30-minute discovery call
Personalized SQL to HANA migration plan
Overview of HANA features
No pushy sales pitch for add-ons
Prepare Your Business with Fast, Advanced SAP Analytics
You need instant SAP Business One data access, real-time operational visibility, and detailed analysis to clearly define and focus on the right priorities. This can't be achieved when you are struggling to get the data you need or waiting on SQL queries.
To solve this problem, Clients First is offering you a FREE upgrade to SAP Business One Version 10 on SAP HANA.
Powered by SAP HANA, you can prepare your business with integrated analytics and powerful real-time apps to optimize cash flow, empower employees, generate impactful reports and dashboards, and easily adapt to changing conditions.
Why Move from SAP SQL to SAP HANA?
SAP Business One for SAP HANA is a single platform for analytics and transactions designed to give you and your users more agility, insight, and efficiency in your everyday business. It is faster, smarter, and simpler than SAP B1 SQL. Here's how:

USER EXPERIENCE
Enhanced Web Client, enterprise search, and personalized Fiori-style cockpit simplifies data access and increases employee productivity.

ANALYTICS
Advanced dashboards and KPIs using pervasive analytics enable real-time analysis and to-the-minute decision making.

REAL-TIME APPS
Gain an accurate, timely picture of your cash flow, inventory, and delivery schedule with built-in forecasting models and what-if scenarios.

EXTENSIBILITY
Easily develop mobile and web apps to extend SAP Business One functionality and optimize business processes.
What is SAP HANA and How Does it Work with SAP Business One?
SAP HANA is an in-memory relational database that efficiently processes, organizes, and manages your data rapidly. Find out more about what it is, how it works, and why it is helping companies outpace the competition in today's uncertain environment.
READ MORE ABOUT SAP HANA NOW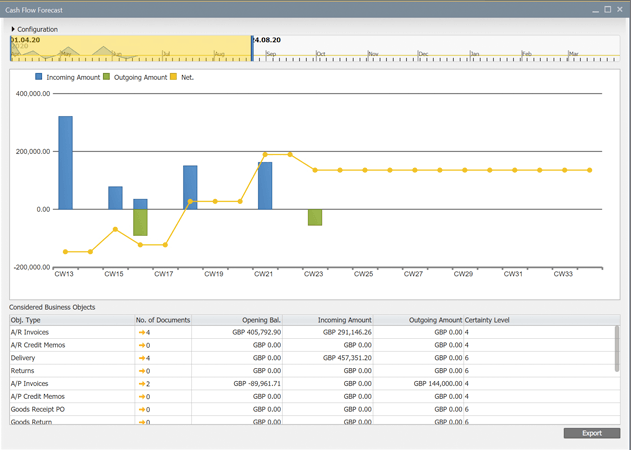 Optimize Your Cash Position with SAP HANA's Cash Flow Forecast App
During global economic turmoil, you need to focus on cash management and freeing up as much capital as possible to support your business. When you upgrade to SAP HANA, you get access to the embedded real-time cash flow forecast app which provides an accurate picture of your cash flow at all times – including the ability to assess probability of payment. You also get interactive cash analysis dashboards, statistical item sales forecast modeling, and the ability to create what-if and outlier scenarios for cash planning.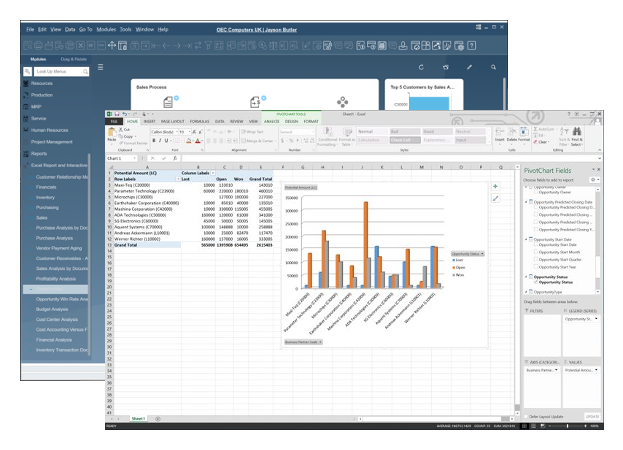 Report Directly Inside Excel with Integrated Excel Reports
SAP HANA's interactive analysis capabilities provide you and your team with the user-friendly tools required to explore and analyze information before making decisions that impact the business. With Microsoft Excel fully integrated within SAP Business One, you can take advantage of PivotTables to easily access data, generate timely and accurate reports and dashboards, and dive deep into the most accurate numbers.
Trust Your SAP HANA Upgrade to the Experts
At Clients First, we are SAP Business One Recognized Experts and preferred SAP partners who specialize in rapid, disruptive-free migrations from SAP Business One on SQL to SAP HANA. Let us help easily navigate you through the migration process from SQL to HANA to ensure successful adoption and survival in an uncertain market.
Turn Insight into Action with Pervasive Dashboards in SAP HANA
The ability to make timely, systematic business decisions in a recession is critical. With pervasive analytics in SAP HANA, you can design custom dashboards of your own in the SAP HANA database and link them to windows in SAP Business One, where they appear as sidebars. From there, you can trigger specific business actions to those dashboards (or KPIs) for instant insight to action.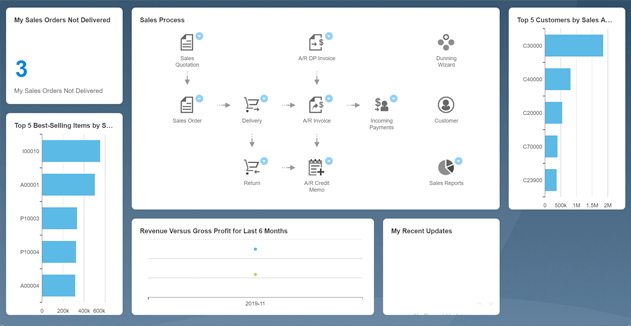 Empower Employees with Access from Anywhere
Help your employees become more efficient and independent of IT staff with the sophisticated user experience provided by SAP HANA. With a personalized Fiori-style work center to view, search, organize, and perform your regular work, SAP HANA simplifies access to information. You also get mobile access to real-time SAP Business One sales and service apps for holistic CRM and service management that drives productivity.