Increase the Bottom Line and Accelerate Growth with Print MIS
Keep up with the growing competition, changing customer demands, and digital transformation in the print industry with print management software built for speed, production efficiency, and access.
HOW TO MAXIMIZE PRINT SHOP MARGINS:
An Introduction to Print MIS
Download this white paper and start thinking – is my print shop as efficient and profitable as it could be?
Improve Production Efficiency, User Productivity, and Profitability with MIS Printing
In an industry that relies entirely on customer expectations, technical innovation, process efficiencies, and tight margins, print shops have to be flexible to keep up with changing demands and growing competition. Unfortunately, many printers are bogged down with time-consuming manual processes, estimation bottlenecks, and inaccuracies that prevent them from capitalizing on the opportunities emerging in the print industry today.
With razor thin profit margins to consider, the only way to grow your revenues and produce a solid ROI in the print industry is with the right print shop software: Print Management Information Systems (Print MIS). Print MIS software integrates all the key components across your print operations, allowing you to simplify workflows, deliver timely estimates, optimize production capacity, prioritize profitable jobs, and gain insight into profit margins.
The Power of One System
Estimating and Quoting
Inventory and Purchasing
Invoicing and Financial Management
Shop Floor Management
Planning and Scheduling
Sales
Job Costing
Case Management
Top 8 Benefits of Print MIS Software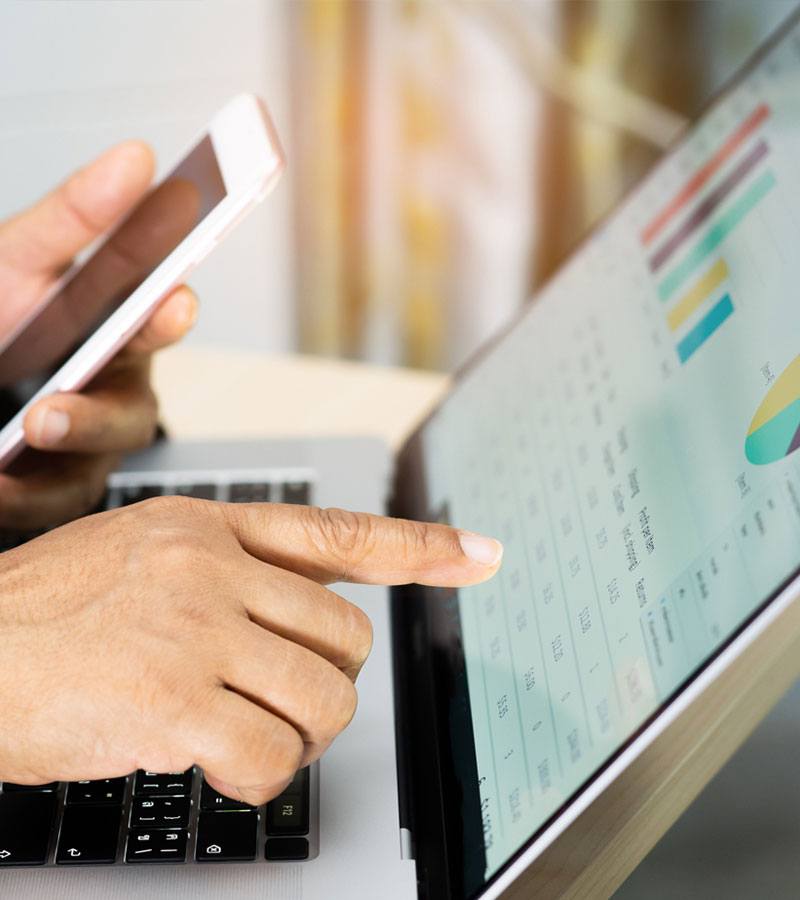 Provides end-to-end visibility and total control over your print operations.
Reduces repetitive tasks and automates key workflows to save valuable time and resources.
Simplifies repeat orders by storing all vital details that go into producing a job.
Creates pricing consistency through highly customizable templates and price lists.
Lowers operating costs with improved production process efficiency and enhanced productivity.
Transforms the customer experience with fewer touchpoints and faster performance.
Provides useful insights into "estimated vs. actual" reporting and analysis.
Empowers users with the data and tools they need to do their jobs efficiently.
PrintVis – Affordable MIS Software for the Printing Industry
Thanks to the cloud, there have been some major advancements in Print MIS technology over the last decade, making it more affordable, accessible, and easier to adopt than ever. PrintVis is an all-in-one, cloud-based software application that combines Print MIS with the power of enterprise resource planning (ERP). With PrintVis, your team gets a targeted core business application with the capabilities to run the entire print operation from estimating through to financial management and reporting.
Delivered by Microsoft Dynamics 365 Business Central, PrintVis is quick to deploy, easy to learn, exceptionally scalable, and provides all the tools your users need to access data and become more productive in their role. It can integrate into any web shop or web-to-print solution and has its own B2B customer front-end for online processing.
Enhanced User Productivity
Familiar Microsoft interface provides quick, easy access to all data and business areas from any device with an internet connection.
Accurate Financial Planning
Powerful financial management with seamless Excel integration for insightful reporting and strategic decision making.
Automated Production Scheduling
Balance your supply to meet demand with automated supply planning, demand forecasting, and production scheduling.
Reliable Inventory Management
Accurately track and predict inventory and purchasing to keep supplies at optimal levels and effectively manage your working capital.
Outpace the Competition and Realize New Revenue Streams with Print MIS
Explore how Print MIS technology can support your print operation with the experts at Clients First. We approach each project in the simplest, most straight forward way to ensure both success and stability. Your print shops best interest is our purpose, and we are dedicated to helping you build and maintain growth. We are standing by and ready to walk you through how to approach and apply the technology in your particular environment. Reach out to us today!