It seems like everyone has a story, from personal experience or from someone they know, about an unsuccessful software implementation project that either cost a company a lot of money or wasted a ton of time and made work more complicated. While there is risk involved in any software implementation project, there are also some critical planning steps that a company can take to ensure that a software implementation project will not fail.
In a recent webinar at the Print Operations Technology Summit, Amy Servi, Senior Account Executive with Clients First Print Solutions, presented on this topic. Drawing on her 20+ years of experience, Servi offers insight into familiar problems in the print MIS (ERP) software implementation process that arise for print shops, as well as tips for avoiding common pitfalls. Her familiarity with the print industry has allowed her to identify and hone in on the most common issues print shops face and develop sound strategies to solve them.
In this webinar, Servi has also identified and refined key success factors for making the transition to a print MIS or ERP solution as efficient and pain-free as possible for printers. In this blog post, we've summarized a few common questions Servi gets from new clients, the potential causes of failure in software implementation projects, and her critical factors to a successful print software implementation.
Servi's insight highlights that the underlying critical factor to any successful software implementation project is understanding what you need to achieve and why. In the print industry, that means identifying information management and workflow problems and opportunities for improvement. Often, bottlenecks identified stem from having multiple software that doesn't integrate well and requires redundant data entry. The systems may technically work, and a shop may still produce great work, but efficiency is undoubtedly compromised. Implementing new software, especially a comprehensive system that replaces multiple programs, can be intimidating.
Read on for the 5 keys to a successful MIS/ERP implementation and Servi's insights about why print shops might consider new software, what causes implementation projects to fail, and the critical success factors necessary for a successful project.
1. Define What You Need from Your Print Management System
Before you start looking up print shop software options or ERP systems, take some time to determine where exactly your current systems are failing or causing bottlenecks and where they're succeeding. Compile these into a list and develop a vision for what you need a new system to do for you. Focus on the outcomes you need, like more efficient resource scheduling, reducing time spent on manual tasks and paperwork, keeping up with machine maintenance to prevent costly failures, and better project tracking to ensure deadlines are met.
If you're not yet sure if you need to upgrade your systems, consider the following reasons.
The print industry has high demand, short deadlines, and razor-thin margins. So efficiency and production speed are critical factors, from quote to shipping. If a shop runs multiple systems for different departments while juggling manual processes like invoicing or quoting, there will be bottlenecks, inefficient processes, and data duplication. A single print MIS (ERP) system can drastically reduce those challenges.
When it comes to business management systems, the purpose is to replace multiple software with one platform that provides a single source of truth for all order information. In the webinar, Servi points out that you might be considering a new software solution if "You are creating workarounds using manual processes, Excel spreadsheets, Word docs to try and fill gaps. Or just not getting what you need from your systems." To dive deeper into this subject, read our whitepaper, "Top 6 Signs You Need Print ERP."
2. Engage Stakeholders Early in the Process
Any software implementation software needs a team of people to work with the partner to oversee and manage the implementation of a system. For the best chance of success, you'll want to identify enthusiastic project champions who have excellent knowledge of your print shop and business history, are adaptable to new opportunities, and can be given appropriate time to ensure a smooth implementation.
In the webinar, Servi delivers some staggering statistics about how "42% of print companies buy software and never launch." And "…most print companies only utilize about 20% of the features in a print MIS system."
When there is so much opportunity to make dramatic improvements, it is helpful to pause and understand what can go wrong, so you can make a plan to prevent project failure.
Servi goes into greater detail about the most common causes of failure in her presentation, and it's a good idea to review that section closely if you are contemplating a significant change in operational software. These are the top three causes of failure that Servi identifies:
Insufficient quality time devoted to project
No vision for new MIS capabilities
Lack of knowledge in implementing new business systems
These potential problems can be avoided by working with a business partner knowledgeable in the new software and the particulars of your industry. It isn't easy to develop a project while maintaining your current business operations. You will need to assign the right staff and provide sufficient quality time for them to focus on the project development and implementation in collaboration with your external business partner.
3. Clarify Project Scope
Three things guide the trajectory of any project:
The webinar explains this as the sides of an equilateral iron triangle: when one changes, the others will need to change too. Servi says, "When you move one of the sides of the triangle, they all have to move. If I increase my timeline, I will have to increase my budget. Typically, that increases scope."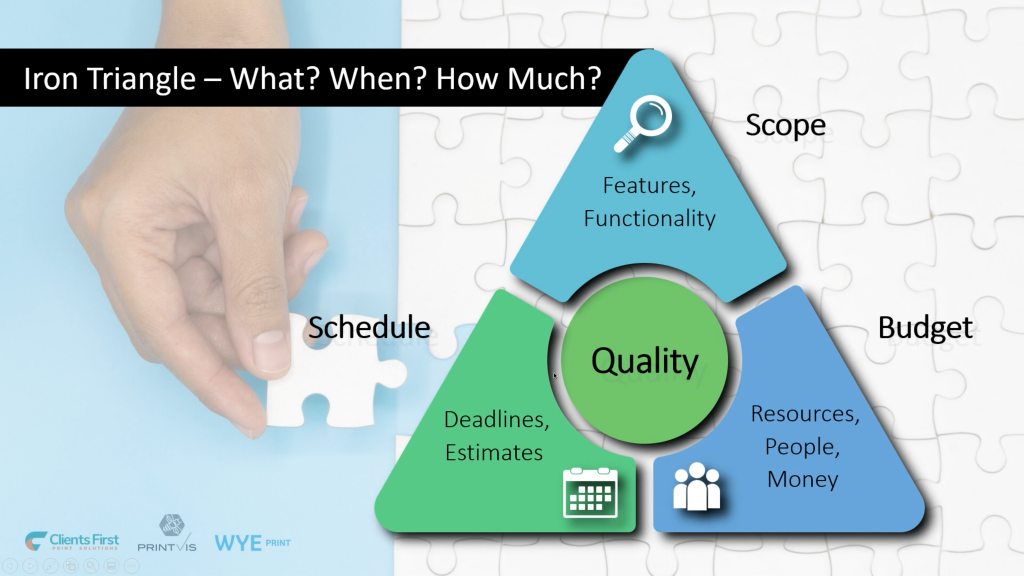 4. Evaluate, Plan For, and Address Challenges & Opportunities
You need to consider many factors when planning a complete system upgrade to an ERP or MIS. This is your chance to identify bottlenecks, inefficiencies, and problems in your current processes and systems. Take the time to analyze all your existing processes and identify where there are opportunities for a new system to improve these processes or even eliminate some challenges.
Discussing your challenges and opportunities with your team and your software partner is essential to ensure your new system delivers the desired results and improvements. Upgrading systems can help your business achieve goals in many different areas.
During the webinar, Servi has identified 7 key things that an effective company-wide single information system can accomplish, and she goes into extensive detail for each opportunity in the video:
Working capital improvement
Revenue improvement
Print shop cost reduction and efficiency
Risk reduction
Compliance requirements (government, debtor, customer)
Reduction or elimination of current bottlenecks to growth
Effective internal controls
Effective functional planning should include these success criteria from the early stages. Working with an experienced business partner, like Clients First, will help ensure these essential criteria are correctly accounted for in the project plan.
5. Choose a Partner with a Proven Methodology for Success
A good business partner won't be afraid to tell you that you aren't ready to take on a new project. Your project success should be the top priority for your partner; if they don't think the project can be completed, they should be honest.
As Servi emphasizes, the right business partner can be critical to your success. When you do have the right partner, they will help you complete these essential steps to a successful software implementation:
Plan early and thoroughly
Create clearly defined goals based on the success criteria
Define clear milestones
Develop and monitor the project budget
Ensure you don't take on more than you need or can handle
Make sure your staff receive training
One key indicator of a professional project management partner is their project management process. Are they just operating reactively and ad hoc, or do they have a proven methodology to guide your project?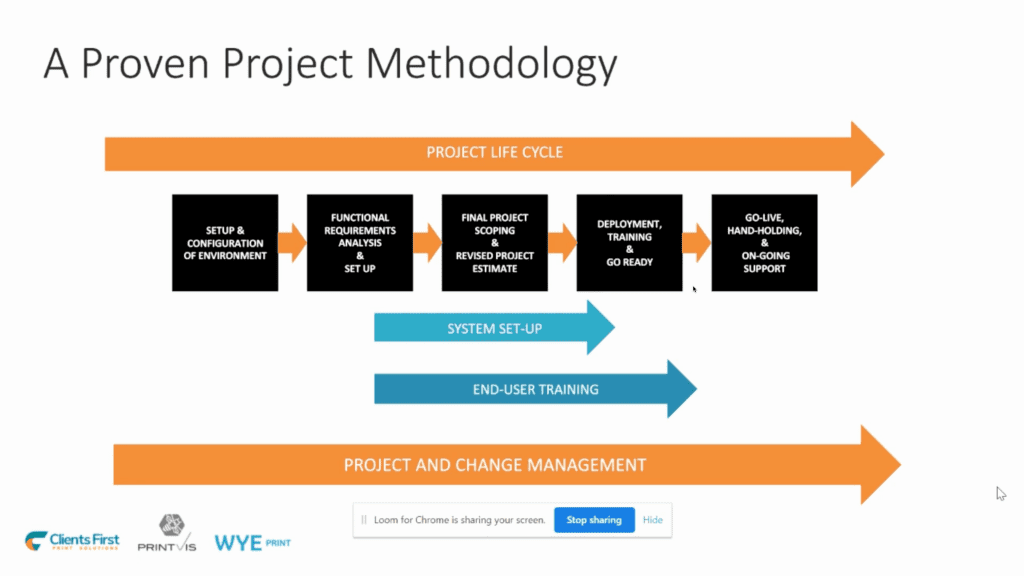 A structured project management process helps you manage the iron triangle: budget, timeline, and scope. The process helps ensure everyone understands what you are trying to achieve and why. And the process provides the pathway to a successful print software implementation.
Clients First has been helping small to midsized companies implement ERP software for over 20 years and are committed to helping the print industry leverage that technology. We are a long-term solution partner who uses proven project methodologies to help ensure success and mitigate risks. To learn more about what to look for in a partner and methodology, read the whitepaper below:
Print Industry Insights and Technology with Amy Servi
In an industry that constantly adapts to increasing demands, short deadlines, and smaller order numbers, finding ways to work more efficiently and plan proactively is a high priority. An ERP or MIS system is one of the fastest ways to save time and allow your team to deliver better service to your clients. If you're considering implementing an ERP system, you'll want to watch Amy Servi's entire talk and glean as many valuable insights as possible to ensure your software implementation project is successful.