While the idea of transformation may sound like a project only suitable for very large companies, the benefits offered by digital transformation in the print industry are available to businesses of every size.
Jeffrey Warwick is a long-time partner at Clients First Business Solutions and has spent much of his career helping businesses find the right software and technology stack that drives high impact results and value. At this year's Print Operations Technology Summit, Jeff developed a valuable presentation on the concept of digital transformation within the print industry. Focused on cloud software, he offers compelling suggestions to help print companies take advantage of new opportunities. With the help of a scalable cloud infrastructure and integrated print ERP/MIS solutions, like PrintVis, the process of managing information throughout an organization can create a profound improvement. 
In this 30-minute video, Jeff offers an analogy to help describe the degree of improvement possible with a digital transformation. As dramatic as the invention of the wheel was, the ongoing iterations also provided dramatic improvements. The change from two wheels to four wheels on a carriage meant that entirely new functions of transportation became possible. The addition of an engine to the wheels added automation so that we could easily travel much longer distances and faster than ever before (2:35).
"We've now automated that transportation mode and the benefit is that that time saved in traveling can be used for performing higher-value tasks. Similarly, in an organization of machines and computers and accounting software and estimating software and quotations—if I'm not automated, I'm perhaps entering data multiple times, or unable to get reports of consolidated information. I might be able to perform higher-value tasks if they were actually done in an automated way."
Jeff offers a clear and succinct definition of the term digital transformation: "It's automating manual processes, for maximum efficiency within the business and to affect business improvement." When digital transformation is applied to the printing industry, there are opportunities created to greatly simplify what we were already doing and leverage those improvements to create new growth opportunities.
New Terminology for New Technology
As with any new technology, there is new terminology created to describe the changes. Jeff offers explanations of some key acronyms used in the process of planning and transformation, what they mean, and how they are applied:
CTE: Current Technical Environment [5:43]
LOB: Line of Business [10:01]
QTC: Quote to Cash [10:05]
CDM: Common Data Model [23:22]
CDS: Common Data Service [25:17]
DWD: Decisions with Data [27:04]
"Cloud Strategy" is of particular importance, and Jeff goes in-depth beginning at 11:26. He describes different types of cloud computing and identifies key benefits for companies using various cloud services. Here are some key acronyms Jeff uses to describe the types of cloud computing services:
SaaS – Software as a Service [12:05]
PaaS – Platform as a Service [14:49]
IaaS – Infrastructure as a Service [16:13]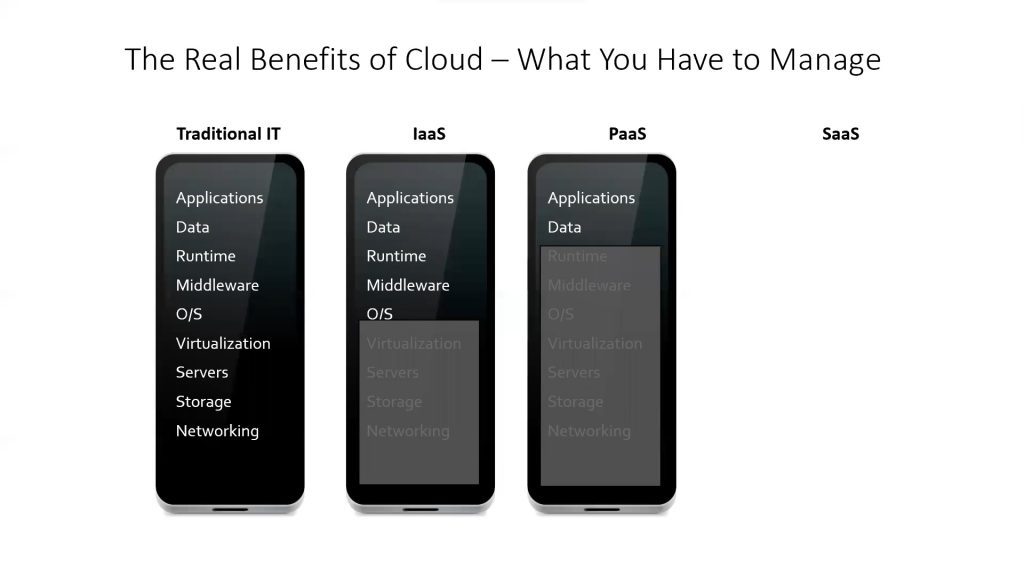 As you can see in the graphic above, moving from traditional IT to optimized online services means more information management can be securely done online. This streamlines your operations and frees up resources to concentrate on growing your business. Additionally, as the information technology needs of your company simplify, costs will also reduce.
The Traditional Approach to Operational Management and Information Systems
In many companies' Current Technical Environment (CTE), there are multiple information and business management systems in operation at one time—and there is no automated interaction between them. These systems exist at every stage of order processing, as well as in managing quotes, inventory, accounting, scheduling, and management reporting. Some processes, such as order estimation, often require manual work to extract information from the different systems employed at the organization, resulting in redundant manual work and long wait times.
With this approach, a single order can create multiple records in multiple systems, and each record contains only the order information required per function. Manual input and reconciliation creates an opportunity for error at every juncture. Unconnected systems provide no easy way to identify order status and mid-production changes can be difficult to input and even more difficult to monitor.
Transformation with ERP – Enterprise Resource Planning
In contrast, ERP describes singular company-wide workflow management software that incorporates all resources used at every stage of operation. Moving to ERP software is called a digital transformation precisely because it moves your company from multiple disparate information systems to a single centralized company-wide system.
The transformation is most visible in the process of client orders. One information system is used to record client quote requests, do the order estimation, provide the quote to the client, and track order processing, billing, and payments. As processes are simplified, errors are reduced while efficiency and client service improves.
Cloud Scalability
A key feature of the movement to online computing services is scalability. Just as a website can be accessed by multiple users at the same time, placing key data securely on the web means that information is securely and immediately available to the designated staff in your company, regardless of your company size. This accessibility also means that implementation can occur in stages, providing you with the flexibility to enhance your operations as your company grows.
Moving from multiple information systems to a single unified system is a major project that will transform your business.
To maximize the benefits of this digital transformation while minimizing disruption to ongoing operations, it is best to work with a business partner. Ideally, you want a partner that specializes in both the print industry and the recommended business software solution for the print industry, PrintVis.
PrintVis is built to meet the needs of all types of print shops and delivers all the scalability benefits of Microsoft's cloud platform while Clients First offers everything your print business needs to plan, install, manage, optimize, and maintain the business applications you rely on.
Clients First Print Solutions offers comprehensive project management that will help navigate you through the entire process and provide free tools to help identify the potential profit improvements and can guide you through the transformation process.
Book a PrintVis Demo
To see how PrintVis can provide you with excellent ROI and other benefits for your company, click on the link below to connect with a Print MIS and ERP professional from Clients First. We will walk you through PrintVis and answer any questions you have about your own digital transformation. You can expect a response within 48 hours.